EIKON #52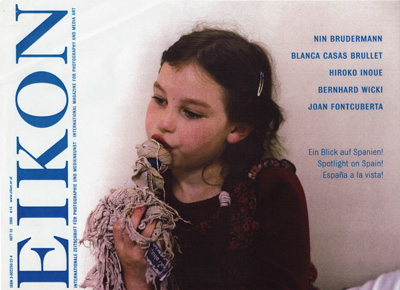 HIROKO INOUE
Inside Out
Ursula Philadelphy
Their eyes are closed, and their gaze goes inwards: The faces of these European and Japanese adolescents resemble each other in their astounding calm.
A calm which automatically communicates itself to the viewer and thus lifts the viewing experience to a very intense level.
The girl wearing a black two-piece and the punky young man in a loose-fittning, flashy blue shirt - no need to ask who is from where and yet a need to ask them what they think, what kind of future they expect and how one may get to in closer contact with them. On her journeys all over the globe Hiroko Inoue has got to know a great many youngsters during the past then years, and she has been dealing with the aforementioned questions ever since. She portrayed nine Austrian and nine Japanese pupils and hung these large format images in a huge circle, thereby compelling viewers to deal with her concern from a centred perspective.
 Inoue considers closed eyes to be particularly important, "because you think differently, inwards. Your concentration focuses inwards and so on other levels of meaning than would be the case if your eyes were open, when you are constantly aware of the fact that you are being photographed."
 The look towards what Inoue refers to as the "inner reality" goes behind the scenes of the so-called normality we live in. Her pictures are windows that communicate between an outside and a very individual inside, between different opinions, insights or outlooks, of spiritual as well as of psychological nature.
  After the big earthquake in Kobe in 1995, which also affected her own family and made her come across a great many mentally ill people while searching for her parents, the artist began a series of photos from institutions for the mentally impaired ranging from Yemen to Austria. But the theme and formal criteria of these works that are presented in lightboxes remain unchanged. Since these sequences seem to form a coherent series which transmits the content that can be communicated with greater intensity than single images, there is a powerful emotional factor to these exhibits, although they are "silent" when wised individually. The images are often in a shady, milky black-and-white quality with an important fraction of grey. In some series Inoue, who starred out as a textile artist and remains attached to this fabric, chooses silk as an image carrier, and she deliberately distorts it in the cutting machine. Therefore, they give viewers an utterly unreal sensation. You will become aware of all the tiny detail that had caught the photographer's eye: dishes piled up to a slanting heap on a window sill, old conduit pipes as well as mouldy corners, and even entire iron bedsteads – although the image frame only shows a fragment of something. The atmosphere is depressing and seems to be infinitely distant from our world. You believe you are looking at an entire room, and all you get to see is a small frame with a window in it. Un avoidable iron bars, broken widows, maybe a pattern on the tiled floor: minute elements that converge to give a gibber picture for the viewer's inner eye. And although not a single person is shown in the series of images from institutions for the mentally impaired, and the artist only talks to the inmates so as to render their view of the interior and the exterior, the photographs start telling us stories.
  The eccentricity of Hiroko Inoue's aesthetic lies in the fact that photographing these rooms depicts a person's living reality and raises ethical questions. All the same, these questions leave the answer open to every single viewer – as is the case in her portraits of adolescents. An uncommon collection of evidence in strange worlds, whereas the method of presentation compels viewers to consider the raised problems and the way they are brought up. An enormous calm irradiates from these pictures and at the same time, they signal their respectfulness of a strange world by taking their distance from it. Yet they are capable of subordinating the noisy rush of our day to another, almost illusionary world. And they oblige viewers to search for their own answers.
Photography as the memory of a present time that appears to be the past and that one would like to dismiss as the past, the way one does with so many other unpleasant things. But this is exactly the point Hiroko Inoue wants to tackle, maybe by a deliberate blending of these two aspects. On the one hand, her adolescents beckon to the phenomenon of global equalization; on the other hand, she shows the narrow world of a small and left-behind group of society. Viewers may well feel oppressed. Under any circumstance, they will have to face Hiroko Inoue's questions and consider traumatisms, wounded souls and young people's visions for the future.
○ Installationsansicht/Installation view
aus/from :
Inside Out
   Jugenstiltheater/Otto Wagner Spital Wien, 2005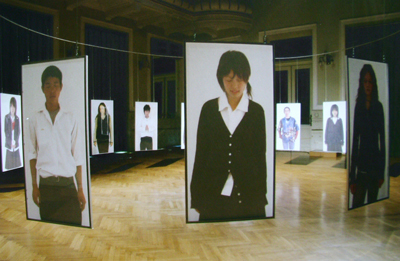 ○ Ptientenzimmer/patient's room
   aus/from :
Inside Out
   Otto Wagner Spital Wien, 2005
   Leuchtkastenaus/light box   94 x 64 cm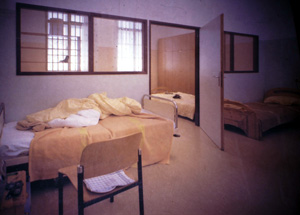 ○ Ptientenzimmer/patient's room
   aus/from :
Inside Out
   Otto Wagner Spital Wien, 2005
   Leuchtkastenaus/light box   94 x 64 cm